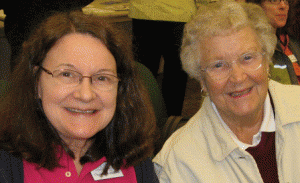 AAUW is a community that breaks through educational and economic barriers so that all women have a fair chance. Your membership makes AAUW's powerful voice even stronger on critical issues affecting women and girls.
Membership is open to anyone holding an associate or equivalent (RN), baccalaureate or higher degree from a regionally accredited college or university.
Student Affiliation is open to anyone who does not already hold an undergraduate degree and is enrolled in a two-or four-year regionally accredited educational institution.
Annual branch dues are $26, payable before June 30 for the next program year. To be a branch member, you also must join the state ($10) and national Association ($49). Renewal dues can be paid online at AAUW.org
It is hoped that every member contributes in some way to the life of the branch.  The Kirkland-Redmond Branch members support equity for women and girls in a variety of ways.  For example, members invite guests and potential members to our events, share AAUW publications and programs with those who might benefit from them, contribute time and money to local and national AAUW projects, and participate in advocacy efforts such as Lobby Day and the Two-Minute Activist program.
Most members donate to our national AAUW Funds in support of mission-related projects coordinated at the national level.  In recent years, donations have averaged $25 to $50 per member.
Another program supported by donations to AAUW is the AAUW Action Fund which advance equity for women and girls through member activism and voter mobilization.
If you are interested in joining us, please contact us via email at: